When Antimite is on the job, your mind can be on your business!
The same reliable, efficient and effective termite and pest control service that has been the preferred choice for California homeowners since 1941 is at work for commercial clients across California.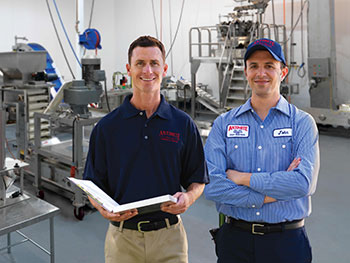 The Antimite Advantage includes:
A Board-Certified Entomologist on staff for consultation and identification through Antimite staff.
Immediate Help is a call away – because it's not just your business at stake, it's our reputation!
Effective Treatments that are proven, efficient, affordable, leave the smallest footprint on the property – and positively lethal to pests.
Long-Term Prevention after your initial treatment (including scheduled treatments and annual termite inspections) helps to control pest problems in and around your business year after year.
The Antimite IPM Approach
Our Integrated Pest Management (IPM) approach to pest control goes far beyond simply getting rid of your pest problem. We are committed to utilizing a combination of our best pest management practices to find the optimum solution for each customer. At all points of the process we leave the smallest footprint on the property as possible. Our IPM program uses comprehensive information on the life cycles of pests and their interaction with the environment. This information is combined with the best available pest control methods to manage pest damage by the most economical means, and with the least possible impact to people, property, and the environment.
Antimite IPM features:
Inspection and Identification
Monitoring
Exclusion
Sanitation
Insect Growth Regulators
(Products that inhibit insects from reproducing.)
Trapping
Pesticides
Our Commercial Services Include:
Ongoing Maintenance
Throughout the year your business will be exposed to different types of pests – including roaches, ants, spiders, birds, and rodents. Antimite offers our commercial clients ongoing maintenance programs to protect from a wide variety of recurring pest problems.
Rodent Control
After a thorough inspection to determine which species is present, Antimite experts create an effective program to keep your facility rodent-free – either through 1) exclusion, 2) trapping, 3) baiting or all 3 methods. We also offer removal and replacement of rodent-damaged insulation in attics and walls.
Termite Control and Annual Inspection
Our thorough inspection of your facility is designed to find tell-tale signs of termite infestation. Learn more about our approach, including our annual Termite Service Contract (TSC).
Bird Control
Antimite is well-versed in using non-lethal methods to keep pigeons and swallows from nesting on your property. Protect your building and staff from potential contact with these germ-carrying and business deterring pests.
Stinging Insect Control
Whether Africanized or not, bees and/or wasps are a needless danger to your staff because of their painful and potentially harmful stings. We will eliminate any immediate threat by treating the bees and prevent future problems by removing any hives and using proven exclusion techniques.
For your fast FREE Estimate call 1-800-ANTIMITE (268-4648) now!