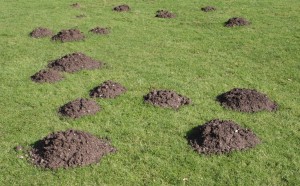 Your garden is not their home, take it back today.
Not only can Gopher problems be very annoying but they can ruin your lawn and flowerbeds. This not only wastes your hard work but also the money you invested in making your home look beautiful. Gophers are burrowing rodents feed on roots of trees, plants and other vegetation in the area.
Gophers love to dig and sometimes create underground burrows that are several hundred feet in length. Typically the only damage you see are the unsightly mounds of soil they produce when burrowing to the surface. The majority of the damage they cause is underground as they are feeding on your trees, plants and other vegetation. Although they are active year round most of their activity can be seen during the Spring and Fall.
We offer a full line of Gopher Control Services including:
Gopher Inspection — The first step to a good treatment is a good inspection. Our experts know that and give special attention to areas they know Gophers are attracted to.
Gopher Control — Expert treatment targeting Gophers where they live and hide. We create a custom treatment plan for every property ensuring that we target Gophers with the most effective treatment possible.
Reappearance of Gophers— Sometimes Gophers from outside of your property try to establish a new home in your lawn, if this happens we are always there for you.
Call or click today for your FREE Inspection.
Let our experts help determine the best solution to your Gopher problems. Call us at 1-800-ANTIMITE (268-4648) or click here to schedule your FREE inspection.