When it comes to eliminating your pest problems, we're all business.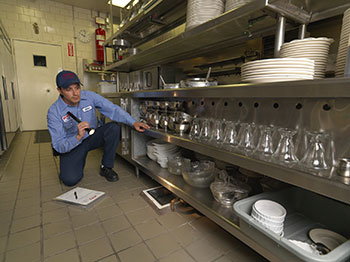 Ask our growing roster of repeat commercial customers about the service they receive from Antimite and you'll hear things like, "They took care of my company's pest problems without disrupting our operations in the least!" or "If I'd known how easy it would be to get rid of the rodent infestation, I would have called Antimite a long time ago."
Business owners, building supervisors, property managers and many other professionals throughout the Southland are finding out that the Antimite experts are the ones to call in almost any commercial setting with a pest problem. Their reasons include:
The Strength of Experience
Antimite backs quality of the work we do on every job. The Antimite name is your assurance that the methods and products used on your premises are the most up-to-date and effective available. It's no coincidence that our programs meet or exceed most recommendations set by the industry.
Licensed Antimite Professionals, Not Sub-contractors
When Antimite contracts for a pest control job, Antimite technicians are on the job and no one else. We not only guarantee all work we do, but if you are ever not completely satisfied with something, we will return to make it right at no additional charge.
The Personal Approach
When you call Antimite during business hours, you will talk to a live person, not a machine. It's just one of the ways we ensure that our customers receive our highest level of service.