Save on your Antimite Pest Control protection when your friends sign up for Antimite Pest Control. The chart below shows the benefits for you and your friends. There are two ways to refer someone. Choose either:
Submit a printed referral voucher
Call us at the number below
| | | | | |
| --- | --- | --- | --- | --- |
| If they buy: | | Your friends will receive: | | You will receive: |
| Pest Control Plan | | 10% OFF regular price | | $60 CREDIT |
| Termite Coverage Plans | | Termite protection for less than $35 a month | | $60 CREDIT |
| Termite Treatment Plans or Bait Barrier Plan | | 10% OFF regular price | | $100 CREDIT |
| Ultimate Protection® Package | | Both a Termite Coverage Plan and a Pest Control Plan | | $100 CREDIT |
To refer a friend:

Been referred by a friend?
To order your services, call 1-800-268-4648 and provide the referral code on your voucher or the name, address and/or phone number of the person making the referral. This assures that your friend gets the credit they deserve for making the referral.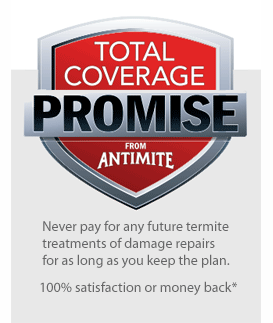 Referring customer will receive a credit only if referral purchases Antimite Pest Control service within six months from the date Antimite Pest Control receives the referral. Credit expires 12 months from the issue date as shown on voucher, is valid for issuance of a credit to any termite or pest control account for the referring Antimite Pest Control customer only, and will be issued to the account only upon receipt of unexpired voucher. If the referring Antimite Pest Control customer cancels their Antimite Pest Control service(s) with an outstanding credit to their account, credit will be cancelled and is no longer available to the customer. Credit is not redeemable for cash, does not entitle referring customer to a cash refund in the event of cancellation of service(s), and is non-transferable. Credits are valid only at participating locations and Antimite Pest Control Refer & Save is not available in all states. Credit not available on Termite Coverage Plans for referral customer. If a referral appears on a State or National Do Not Call list or Do Not Solicit list, Antimite Pest Control will not initiate contact with the referral.

*Total Coverage Promise (TCP) is specific to the termite or pest plan purchased. Consult your plan for specific terms and limitations that may apply. Not available in all areas. For complete offer terms, including coverage areas, or for details regarding any Antimite guarantee, call 1.800.ANTIMITE (800.868.4648). If within 30 days after an inspection or treatment you aren't totally satisfied, we will refund the treatment or coverage charges, reimburse any prepaid services and cancel your plan. Termite plans require annual inspections and payments to be current. Termite plan TCPs vary by plan and type of termite. TCP IS AVAILABLE FOR QUALIFYING PROPERTIES ONLY. TCP IS NOT AVAILABLE FOR SERVICE PLANS. Any future treatments and/or damage repairs require the presence of live termite activity.